Sight Work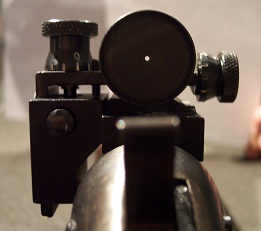 Bore sighting - This is available year round. We will get it "on paper".

Range sighting of guns - This service is only offered between April and November at 50 yards or 100 yards. Please remember that everyone will shoot a gun a little different. What works for us may not provide the exact results for you.

Scope mounting - We will make sure that the rings are properly aligned to the bore. Rings are tightened with a torque wrench to make sure they are not too tight or too lose. Screws are applied with non-permanent Loc-Tite when applicable.


This is a custom mount for a photo-optic vision system developed for a blind marksman. It uses sight to sound technology to enable the shooter to "hear" the target. Use the link below to check him out on YouTube!
Other sight work available:
Custom built mounts
Cut dovetail in barrel or slide
Install front sight ramp
Install receiver/peep sights
Install shotgun mid or front bead
Please call or email if you are shipping a gun to us. Shipping